Welcome to Hamptons Dental
Your Family Dentist in NW Calgary
Our General Dentistry is the foundation of our services and has been relied on by our loyal patients of all ages.
Having a family dentist that you can trust is important, particularly if you are raising a family with children of different ages.
It is recommended that you see a dentist immediately as soon as you feel any pain or discomfort in your teeth.
Looking for a dentist near you?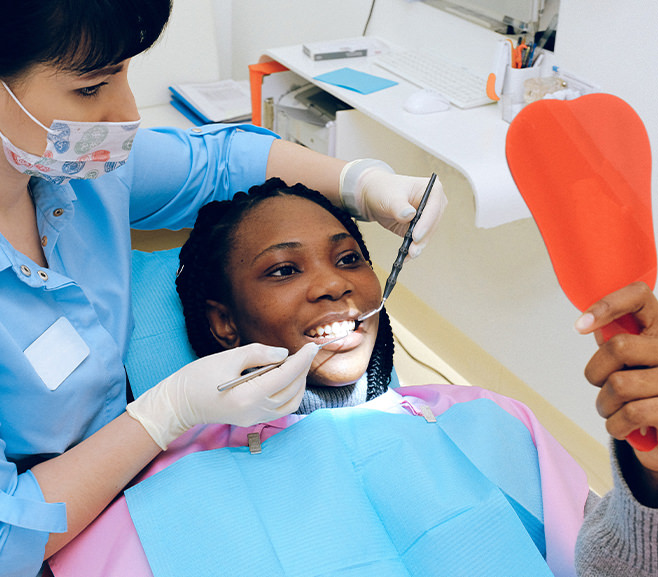 We are always accepting new patients!
Hamptons Dental loves being part of the NW Calgary community. There are so many activities here that make Calgary a great place to raise children. We hope your family enjoys everything our fair city offers, including the Calgary Zoo, Calgary Tower, family museums, sports teams, historic sites, arts and entertainment, year-round recreation, festivals and, of course, the famous Calgary Stampede.
One thing that is especially important to parents is assembling a professional medical team you can rely on to protect your family's health. Having a family dentist you can trust is crucial to your peace of mind. If you're looking for a family dentist who can provide professional and caring dental services for all members of your family, look no further than Hamptons Dental. You can find us on Yellow Pages and Yelp.
Hamptons Dental NW Calgary has provided dental services for over 25 years. Our experienced dentists  provide caring and welcoming service that keeps families coming back year after year to meet all of their dental needs. Aside from offering our patients the best dental care possible, it is our goal to create a homey and comfortable experience for our patients.
When you first visit our family dental practice, you'll feel peace of mind as everyone works to make you as comfortable as possible. Our dentists and dental care team members take the time to listen to you, explain any procedures, and answer any questions you may have. We'll also provide education about at-home dental care to help keep your teeth looking their brightest between appointments.
Family Dental Services We Offer
Hamptons Dental NW Calgary is conveniently located at 606-1000 Hamptons Dr NW, in beautiful Calgary, AB T3A 6A7, which is near the co-op grocery store and easily accessible from neighboring communities. "Like" our Facebook page to receive ongoing tips on dental health for all members of your family. Call 403-274-7112 to schedule an appointment today!
Hamptons Dental wants to be your home for full family dental care. Services available at our dental NW Calgary practice include:
Our NW Calgary dental team provides a wide range of dental care services, from routine dental check-ups and dental cleanings to root canals.
We are also licensed to care for dental patients of all ages. Children have special dental needs to keep their "baby" teeth healthy and ensure permanent teeth come in properly
If you experience a dental emergency in NW Calgary contact our dental office immediately. Whether you suffer a cracked, chipped, or lost tooth, or are in severe pain, our dental team will instruct you on what to do and arrange an appointment as soon as possible.
Don't be ashamed or embarrassed by your smile any longer. Our dentists offer a range of restorative dentistry services from fillings to dental implants and dentures to help your smile look its very best.
Family Dental Services We Offer
Professional cleaning by a dentist is an integral part of oral (and general) health.
Restorative dentistry is in fact one of the most common services that patients seek out when seeing a dentist.
Dentures or false teeth used to be the most common option for individuals who have lost their teeth.
Invisalign® takes a modern approach to straightening teeth, using a custom-made series of aligners created for you.